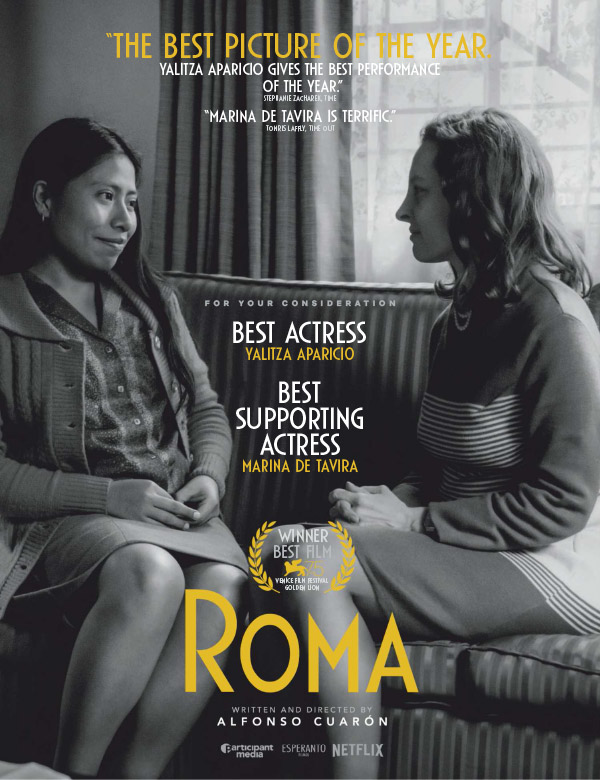 Yalitza Aparicio was present at the Wawa Inspiring Minds opening the event for the month of September with enthusiasm and empathy. She showed us how simple and warm she is and made us feel we knew her for a long time.
Vanessa Velázquez and María Eugenia Muci led the conversation where more than 50 people participated.  It revolved around the actress's experience as an activist and representing minorities in the film industry, but above all as a woman who has become a voice for other women.
"It is very important to know the value and capability that women have in different areas, not only as a requirement or a trend, but to do it for your own benefit.
A fundamental key is to believe that we are really capable of doing whatever we're doing in a particular area. We have to be aware that we are part of the objectives achieved in all the areas in which we are involved" she said.
She also mentioned: "we are all an example to follow no matter where we stand."
Yalitza Aparicio became known for her participation in the film "Roma" by Alfonso Cuarón,
for which she received an Oscar nomination. But more importantly, she received the affection of hundreds of essential workers who were represented in her work. This has set the tone for the steps she has taken in parallel with her acting career.
She is aware that a film can transmit messages that affect or benefit society, and she wanted to give even more through her experience by actively participating in projects that stimulate the fight against gender violence.
In fact, she shared that her participation in the Fourth World Conference of Women's Shelters, held in Taiwan, made it clear that situations of violence occur anywhere in the world.
"This type of event is an opportunity to point out that no matter where you are or the language you speak, we all suffer similar things, and this is where we must take advantage to talk about the subject and act, unite and show."

THE FILM "ROMA"
Wawa Inspiring Minds also served for Yalitza to talk about part of her experience as an actress, both of the film that launched her to stardom and of her projects.
As a result of her participation in "Rome" she has advocated for the rights of domestic employees and the difficulties of working during the pandemic.
"I had never acted before, I dedicated myself to my profession, what society had told me was the place where I could go. The audition did not specify the role, and once I went through the stages I had the opportunity to meet the director.
When I was selected, I learned more about the character and the project" said Aparicio.
She explained the process to become Cleo, her role in the movie.
"I learned about her past, who she was, her passion, her relationship with her family, and every day I was building the role, getting familiar with it."
"Having been a stranger to the world of cinema and thinking that it was something unreal for me, it was nice to realize that a film could work to talk about taboo topics and for people to bring them to debate. 
With this film it was possible to realize and see the problems that domestic workers have.
There is still a long way to go. We must insist that these workers are fundamental to the economy of the communities."
Regarding her future, she plans to continue taking advantage of opportunities to raise awareness about these issues. Using her platforms for this is her way of contributing and helping others.
In addition, she mentioned that the Oscar nomination has helped her analyze the opportunities and make decisions in accordance with her principles.
"I didn't dream of winning an Oscar and now I can connect with a script and know if it is something I want or if it's something that will contribute to my career. However, you always have to strive, learn, observe", she said.
She ends up giving advice to those entering the industry.
"You have to have patience and perseverance because you do many auditions and you never know which project is going to materialize. If a role is meant for you, it will be yours; but you have to do some research, study, get informed, because everything has to do with the opportunities, but also with being prepared for the role."
To finish the enriching conversation, Roxana Rotundo, Chairwoman of Wawa Association recognized the actress for her great work by naming her an honorary member of
Worldwide Audiovisual Women's Association.
WAWA Inspiring Minds, designed to expose not only operational knowledge among the industry, but also for the anecdotes given by our great guests: Teresa Fernández Valdéz, "Velvet" and "Las Chicas del Cable" Executive Producer; Camila Hammerich, "Borgen" Producer; Carla González Vargas, CEO for Gato Grande; and Holly Hines, "Ginny & Georgia" Executive Producer.