Rosalind Rotundo
I would like WAWA to be a strategic alliance among the women of the industry, to expand our connections and the possibility of increasing business. Leave aside the competition, and unite, for the personal and professional growth of each one, since we can create a great female movement that will create lots to talk about.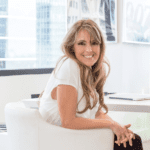 Rosalind Rotundo
VP de VIP 2000
Kamela Gil de Mares
Greetings to all!
I think it is important to belong to this organization of women because we can be closer to the women of the Audiovisual industry and collaborate in our own businesses, learn about what happens in this industry, the changes that happen every day with our own colleagues.. – 
Kamela Gil de Mares
INCOMSA SA – Sales Manager
CAROLINA SEFAIR
Undoubtedly, this space created by women for women has become a fundamental tool to create collaboration and business ties among women who are part of the exciting industry of television and film. In this sense, this great women's association will allow us to strengthen and show what various studies around the world confirm, which is, that organizations that count on women in leadership positions register not only higher returns of social capital and obtain higher valuations, they are also 15% to 30% more profitable (Noland, Moran & Kotschawar, 2016), with better financial results and more equitable.
For me it is great to belong to WAWA, because it is a key space for the positioning my company and the exchange of knowledge and experiences that strengthen the capacities of women from different parts of the world. It is a network that will allow us to create better corporate practices and new businesses. We hope that more and more women are part of this great initiative.
CAROLINA SEFAIR
Susan Bender
I am very proud to be included in such a wonderful group of Professional Women! As a woman who has spent her entire career in the region dominated by Latin American men, as many of my WAWA colleagues, I think it is important that all of us present a united front and serve as an example for the next and young women to enter in our industry. The camaraderie and the support of other professional women is undoubtedly at the forefront of our society today. Thank you WAWA!
Susan Bender
Presidente y CEO de América Latina Televisión Dist
Raquel Yepes
It is important because women in the industry are a power. Because we HAVE to have an organization that supports us more. Being part of this organization makes me feel proud of my professional career and happy to be part of this wonderful group.
Raquel Yepes
SVP Latin America and US, Bogota y Hispanic market