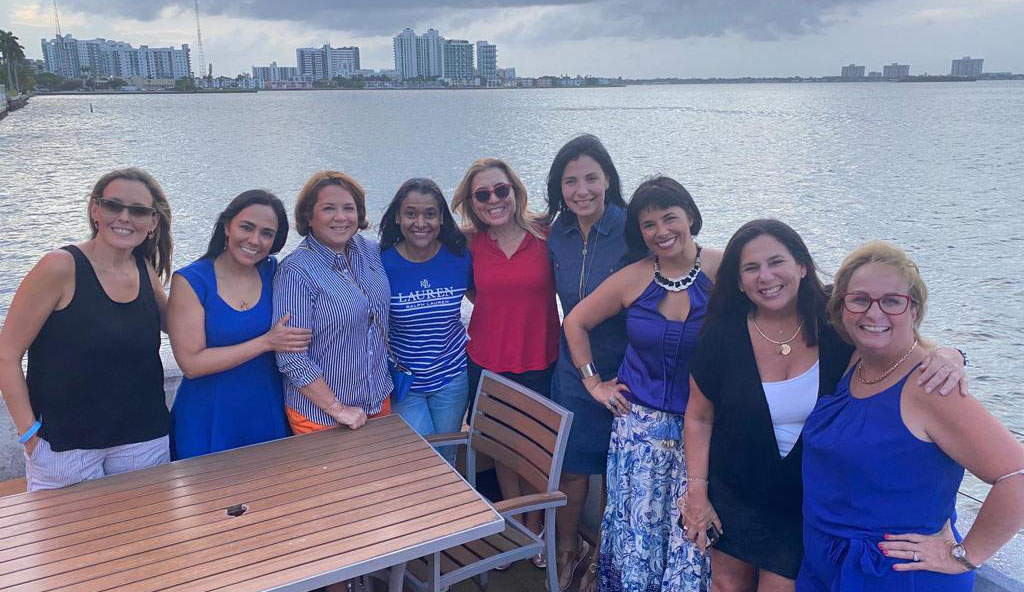 WE TRANSFORMED THE CRISIS INTO OPPORTUNITIES
This year taught us to adapt to new growth possibilities, and we have already proved that there are no obstacles to develop new ideas to grow professionally, emotionally and as a human.
In WAWA Association we are determined to move forward and continue generating opportunities for all our associates.
OPENING ROADS WITH INTERNATIONAL EMMY AWARDS
Even though safety measures are still in place due to the pandemic, we have assumed the responsibility to be always at the forefront and we are opening the calendar for in-person events.
The first encounter was in Miami, where some of our executives got together to be members of the jury at the prestigious International Emmy Awards, which recognizes the excellence on television produced outside the United States. The ceremony will take place on November 22, 2021.
Roxana Rotundo, CEO of VIP 2000 TV; Vanessa Velázquez, Project Manager of Spring Media AB; Susana Umbert, Production Director of Latina TV in Peru; María Eugenia Muci, Content Manager of Onceloops Media; Rosalind Rotundo, VP of VIP 2000 TV; Giselle González Villarué, General Director of SerTv Panamá; María Elena Paniza, VP of KM Distribution; Carmen Larios, Vicepresident of A&E and Lifetime; and Carolina Cordero, General Manager of WAWA shared the exciting task of evaluating under the category of "Drama Series."
The following members participated virtually: María Bonaria Fois, General Manager of MondoTV Iberoamérica; and Cecilia Gómez de La Torre, Associate General Manager of Tondero Distribution/Amazonas Films, from Madrid. Also, Emilia Nuccio, CEO of Enoro Media from New York; Analida López, Evaluation Executive of Grupo Albavisión, from Panama; and Carola Arze Torres, Content Advisor, from Bolivia.
Knowledge, career path and talent were the common factors during this event, which was one more sample of the opportunities the associates in this organization have.
IN AUGUST, WAWA CONTENT HUNTER
"WAWA Content Hunter" is an initiative that will take place in August during three different days, where we demonstrate that the alliances we have made throughout this year continue to bear fruit.
Along with Gato Grande, Big Reality Show (Latina) and Ecuador Fiction (Ecuavisa) we'll make great ideas come true.
Get all the details and learn how to participate via Patty Domínguez at
p.dominguez@wawaassociation.com and check our updates through social media.
A SUCCESS, THE SECOND EDITION OF ALLIANCE WAWA COPRODUCTION
In search of new opportunities to encourage coworking among our associates, we had the second edition of "Alliance WAWA Coproduction", where some of our executives presented their projects to decision makers from companies like Media Pro and Fox TeleColombia.
These virtual events serve as a platform for the participants to expose their projects looking for an ally to coproduce as a partner or an investor, so there would be potential opportunities for growth among our organization associates.
Check our emails and social media to learn about upcoming events.
EVENTS TO GROW
Since March, WAWA Association has had the conversations "WAWA Inspiring Minds", which are oriented not only to share the key to success of various women in the audiovisual industry, but to nurture and inspire others to broaden their horizons even further.
The first guest was Camilla Hammerich, Producer of "Borgen."
On April we had Marcela Said, Director of "Narcos y Lupin."
On May we had Teresa Fernández Valdez, "Velvet" and "Las chicas del cable" Executive Producer.
And the most recent one was Carla González Vargas, Founder and CEO of
Gato Grande Productions, the company responsible of the success of "Luis Miguel, la serie."
Additionally, we had "WAWA Business Forum" and "WAWA First Look", events dedicated to the development of audiovisual projects in different formats, which will have new editions soon.
With these unique proposals in the midst of an unprecedented world crisis we have connected more than 700 participants worldwide that form a community anxious to share and develop new ideas for the benefit of the industry's growth.
Let's continue and don't miss the next one.